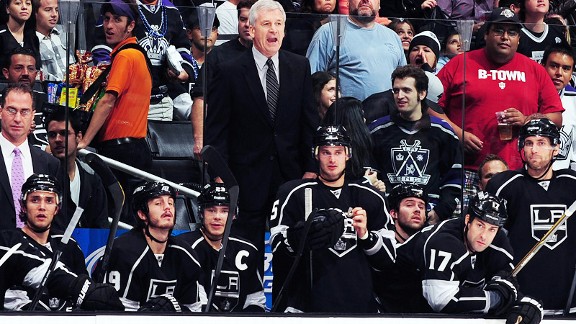 Do you remember December 2011? The Kings were in a tailspin. 30 games into the season they were a .500 team. They were not scoring goals. As of December 13 they had lost 5 games in a row. Something had to give. And finally defense-first defense-only head coach Terry Murray paid for the lack of goals and the lack of wins with his job.
His replacement was Darryl Sutter, a guy a lot of us called a Terry Murray clone. But that comparison was forgotten after the Kings acquired Jeff Carter and annihilated all competition en route to winning the Stanley Cup just six months after sacking Murray.
As the Kings' current inability to score goals continues I can't help but wonder if that comparison should be revived. So I got to looking back to 2011 to see just how this current skid compares.
As the Terry Murray Era drew to a close, the Kings lost 5 consecutive games:
Dec. 3, 2011 2-1 in Montreal
Dec. 6, 2011 3-2 in Anaheim
Dec. 8, 2011 4-2 vs Minnesota
Dec. 10, 2011 2-1 vs Dallas
Dec. 13, 2011 3-0 in Boston
The final loss dropped them to 13-13-6 30 games into the season. At that point of the 2011-12 campaign, Terry Murray's defensive system had resulted in the Kings scoring 66 goals. They had been shutout 3 times, held to 1 goal* 7 times (2-4-1), and notched 2 goals 12 times (3-6-3). In other words, 22 times in 30 games – or 73% of the time – the Kings scored 2 or fewer goals, posting a record of 5-13-4 in those games.
The most recent stretch of the Darryl Sutter Era is looking very similar to his predecessor's tenure. Since Dec. 23, 2013, the Kings have gone 5-12-2 in 19 games. In that time they have scored 30 goals and allowed 47. In 19 games they have been shutout 4 times, scored once 6 times (2-3-1), and scored twice 5 times (0-4-1), which is to say that in their last 19 games they have been held to 2 or fewer goals 15 times (79% of their games!), going 2-11-2 in those 15 games.
For the season, the Kings have played 56 games. They've been shutout 5 times (about 9% of their games; compared to 3 shutouts in 30 times out in Murray's last season). They've scored once 15 times this season going 6-7-2 (that's 27% of the time, compared with scoring once only 23% of the time in 2011). And they've scored twice 13 times with a 4-6-3 record in those games (23% of their games, compared with scoring two in 40% of their 2011 games).
There is clearly trouble in Kingsland. Is it Darryl Sutter's system and its uncanny similarity to Terry Murray's? Is it Dean Lombardi's construction of this team with too many grinders and not enough scorers? Is it simply players feeling too comfortable in their jobs and not producing? Can I just answer yes?
I don't think Lombardi is going to fire Sutter right now. He has proven himself to be stubborn and loyal to his coaches and I think it would take the Kings completely falling out of a playoff spot for Sutter to be let go.
If a move has to be made I think it's going to be a major player changing his address. There are a few candidates.
Dustin Brown has had a terrible season and while he is a popular player with fans, it would not be the first time Lombardi has shopped him around. He is viewed as having intangible qualities that could fetch a nice return even when he is not producing offensively. The fact that I've heard rumors that he has been butting heads with Sutter could work against him as Lombardi could be more likely to side with his coach rather than the captain he inherited from the Dave Taylor regime.
Mike Richards has been very inconsistent all year. He leads the team in assists but I don't even remember the last time he scored a goal. Like Brown, he is seen as a great leader around the NHL and there are a lot of teams who would like to add a player like him. At the same time, I can't see Lombardi trading someone he brought over just three years ago, or splitting him up from his BFF Jeff Carter and risking the onset of a melancholy Blue Jacket-like Carter.
Justin Williams is getting older by the day and while he is 4th on the team in scoring, he has been pretty much invisible for the better part of the last two months. Everyone knows he comes through in the playoffs but for that to happen your team has to get to the playoffs and right now J-Dub is not contributing to that cause. He could provide a good veteran presence on a young team looking to break through. He would not bring much return on his own, but could be a nice piece in a package.
What do you think? Should the Kings make a move or try to ride this out? Is it time for a new voice and system behind the bench? Does the team need a shake up by moving a prominent vet? Sound off in the comments. I wanna hear what you think!
*All goal totals are exclusive of shootouts so if the Kings won a game 3-2 in a shootout, it counts as a game in which they scored 2 goals.